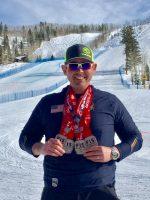 Background: 
Matt has been skiing for most of his life but didn't pick up ski racing until high school at Acton-Boxboro. In addition to racing for his school, Matt also raced USSA in the NARA division. Matt began racing in Wachusett Mountain's night league program while in college, which is where he first heard about the Masters. He began racing with NEMS in 2007 and has won multiple class titles across classes 1-3.
Most recently Matt helped the Eastern Division win the 2019 Masters National Championships at Mammoth, where he was named to the 2019 Masters Spyder Team. He also won the National Speed Series for Class 3.
Outside of ski racing Matt enjoys spending time with his wife, traveling, good wine and cold beer. Matt also competes in road and trail races across New England, and pretty much enjoys doing anything outdoors. He has recently gotten into road cycling and enjoys spending hours in the saddle. 
NEMS Board:
2015 - 2018: Director
2018 - 2021: Vice President
2021 - Present: President
Professional Background: 
Matt is a Sr. Investment Manager at Fidelity Investments, where he manages individual client portfolios. Matt received a BA in Economics from UMass- Amherst and an MBA and MSF from Boston College.