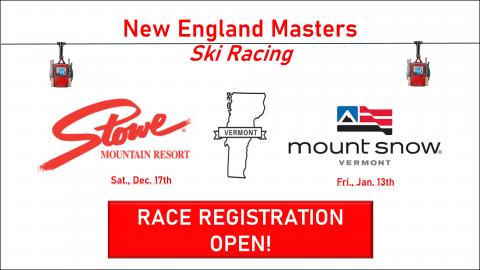 Race registration for the Stowe Mountain (Dec. 17th) and Mount Snow (Jan. 13th) races is now open. It has been a very long time since NEMS has raced at either venue and both are excited to have us return. We hope you can make it out! 

Important:
Both venues require racers to sign a waiver in order to participate. The waiver has already been loaded into ASR, and pre-populated with info from your profile. To register for either race you will need to complete the online waiver. To complete the waiver you should read it and confirm your info at the bottom of the second page. If you agree, you will then select "I Accept" and click "Agree and Add to Cart". You will then be registered for the race. There is no checkout or other steps required. 

As a reminder, you can find info and updates on the NEMS Website, including the current schedule. Also be sure to follow us on social media (@NEMSRacing) so you don't miss out on any of the action. As always, if you have any questions please feel free to email me at: [email protected].