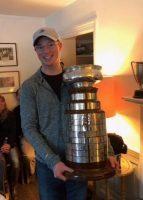 Background:
Matt started racing in the Gunstock Ski Club at age 7 and he was hooked ever since.  Matt competed in ski races during high school and raced on the Division 1 circuit at St. Lawrence University.
One of Matt's favorite moments ski racing was when I was lucky enough to forerun the Women's World Cup downhill in Aspen in 2008.   
He loves that he can still race and compete in the winter while meeting new people and making friends that share the same passion for the sport.
Professional Background:
Matt is a Certified Financial Planner on a wealth management team at UBS.  His team helps private individuals and families invest their money and plan for a successful future.  As a team full of skiers, they are proud to brand their team as "Alpine Wealth Management."