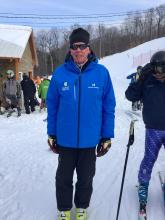 Position
Technical Delegate
Background:
Kip has been skiing his entire life…..He started with his family making weekend trips to MA, NH and VT before they settle in at Okemo in the late sixties. While at Okemo Kip raced in many races from NASTAR, club, inter-club and USSA races. He also was racing in Connecticut Ski Council races for Manchester Ski Club at Southington and then Connecticut Industrial Ski League for The Hartford at Ski Sundown. After spending twenty-five years skiing at Okemo, he decided to join the Killington Ski Club race crew. Working at Killington he learned everything you need to know on how to run a ski race from race administration, fencing, timing setup and timing. He has worked many large events at Killington including timing two U.S. Freestyle Nationals. Also, during his time at Killington he coached the Glastonbury High School Ski team for several years. In 2011 Kip and Lucy made the move to the New England Masters to do Race Administration and help with running their events. Kip also has spent the last few Thanksgivings working at the Killington Ladies World Cup Races as Timing Technical Coordinator. In his free time Kip likes to bike, kayak, hike, and just enjoy living in the Mount Washington area, and hopefully this winter start free skiing mid-week at Wildcat and Cannon.
Years in NEMS:
Kip and Lucy joined the New England Masters in the winter of 2011, and we have enjoyed every day working with the board and the most appreciative group of racers I have had the privilege to work for.
Professional Background:
Kip worked for several companies around the Hartford, CT as Programmer Analyst, most recently at DXC Technology.