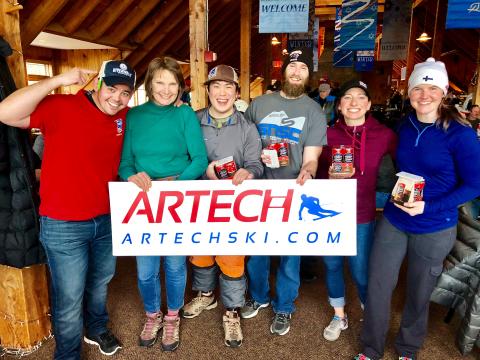 In addition to Masters races, many of our racers also participate in night/beer leagues at various mountains around New England during the week. Being the competitors that we are, there has been a long standing debate around which league is in fact the best.
Established in 2015, the Beer League Challenge is a race to settle all doubts about which mountain has the best beer/night league team each season. As one of only two "team" races on the NEMS schedule, the Beer League Challenge has quickly become one of the more popular races on the circuit with the winning team not only receiving ultimate bragging rights but also taking home a delicious case of beer in addition to number other prizes worthy of only the best of the best.
Below are the rules:
Teams of six racers (male/female/mixed)
The men's overall finish results are divided into four quarters
The women's overall finish results are split into halves
Each of the quarters and halves is scored using old World Cup scoring
All finisher's points are added up for the team they are on
The team with the highest points wins the ultimate bragging rights to best beer league in New England!
| | | | |
| --- | --- | --- | --- |
| 2015 | 2016 | 2017 | 2018 |
| Women of Wachusett | Women of Wachusett |   | Dilly Dilly |
| Lisa Marien | Lisa Marien | Mark George | Matt Mitsis |
| Lauren Bennett | Lauren Bennett |   | Kevin O'Brien |
| Kate Parhiala | Kate Parhiala |   | Leonard Kwan |
| Shannan Budde | Shannan Budde |   | Kate Parhiala |
|   | Martha Hanright |   | Sara Melekian |
|   | Jackie Levy |   | Cynthia Berlack |