We are excited to be closing out our 2022-23 race season on March 17th & 18th at one of the most well-known resorts in New England - Killington Mountain Resort. Killington has taken center stage for the last six seasons, playing host to the FIS Women's World Cup races immediately following Thanksgiving. With crowds topping 35,000, it is fair to say that Killington knows how to put on a high-caliber event. 
Also known as The Beast, Killington is one of the largest resorts in the East, boasting an impressive amount of terrain for all skiers and riders to enjoy. The mountain also is known to have one of the best off-mountain scenes as well. With plenty of lodging, restaurants, and off-mountain activities, Killington is a great option for everyone to enjoy. So get your friends and/or family together and come for the races, stay for the party, and have yourself a really fun weekend! 
Race Info:
Please be sure to visit the Killington race pages (Slalom / Giant Slalom) for all of the official race details, which will also be available on the Race Info Sheet soon. 
The Race Basics:
Date: Fri/Sat. March 17th - 18th
Discipline: Fri., March 17th: 2 x Slalom (2 full races) / Sat. March 18th: 2 x Giant Slalom 
USSS License Required: Yes
NEMS Membership Required: Yes - See NEMS Membership Policy
Finals Party:
Be sure to stick around Saturday night as we celebrate another great season. This year's Finals Banquet will be held at The Killington Mountain Lodge. See details below. 
Registration at: NEMS FINALS BANQUET REGISTRATION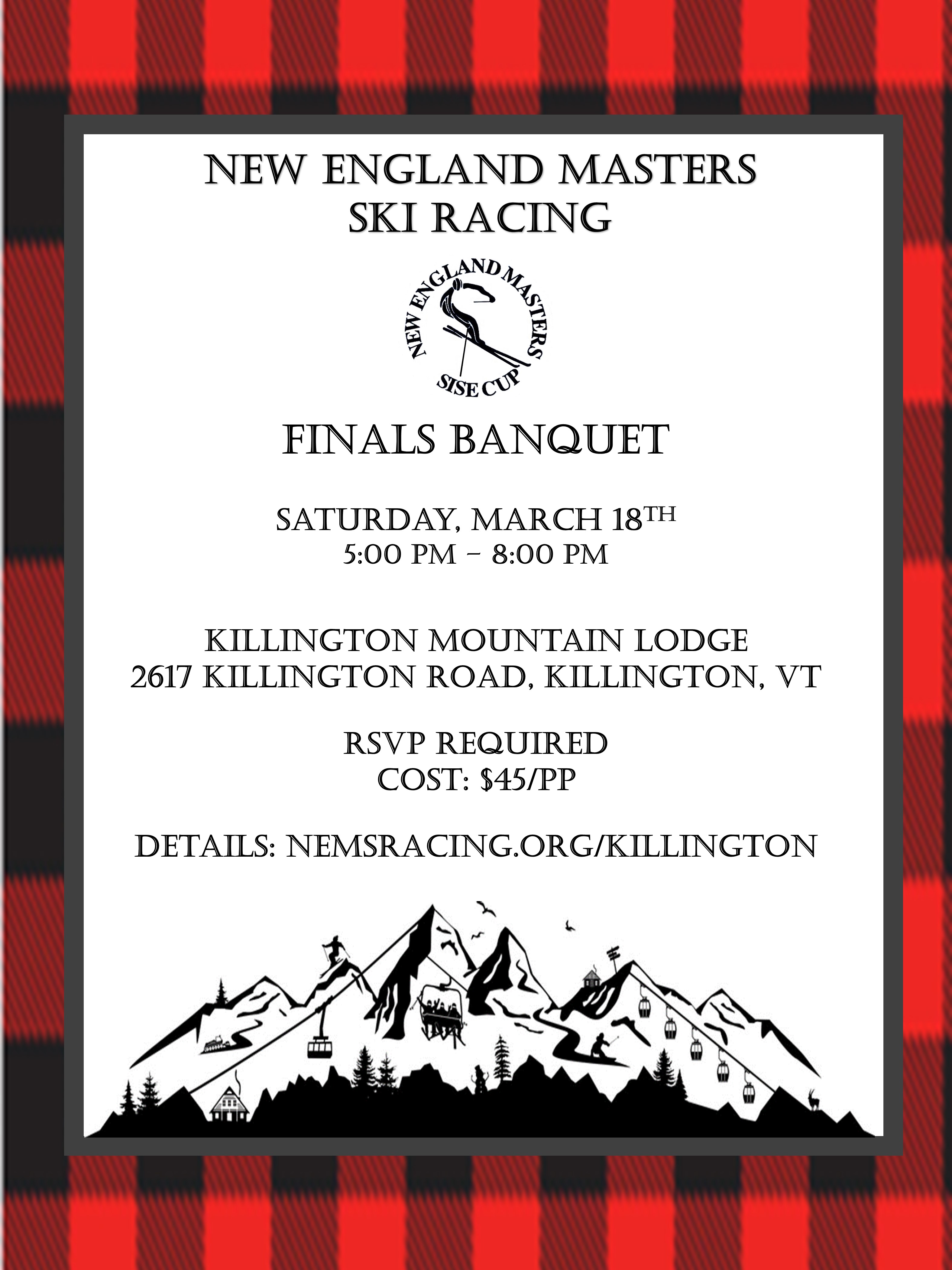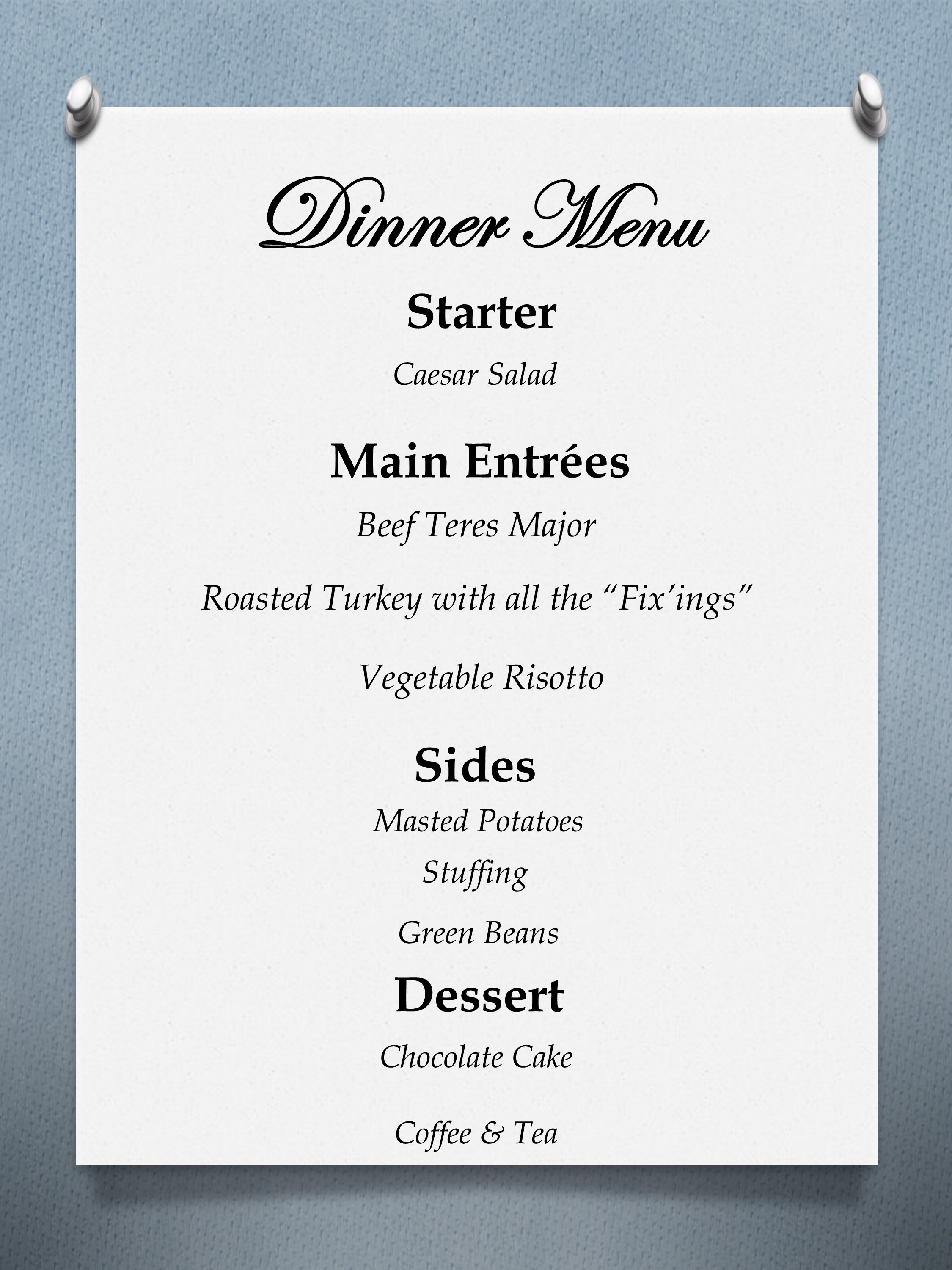 Important Things to Remember:
USSS Masters License required. A short-term license is allowed.
Comped (free) licenses are available. Contact Lucy Blake for assistance ([email protected]) 
Online Registration deadline is Thursday, March 2nd at 12:00 PM (Noon)
No day of race registration. All registrations must be done online by the registration deadline.
Race Day Check-In Table will be located in the Main Lodge.
Lift Tickets are included in the Race Fee. 
A $10 discount is available to anyone who does not require a lift ticket. 
Racers are required to complete an electronic waiver
Helmets - A hard-sided, FIS certified, helmet is required for the GS races. Soft-sided helmet is ok for Slalom races. 
Bibs - NEMS will provide bibs to all racers. If you already have a NEMS bib please bring it. 
A valid credit card on file is required. Please be sure to check your CC info on your ASR profile.
For specific race start times please see the Killington Race Info Sheet
Questions:
If you have any questions you can email us at: [email protected]. 
_____________________________________________________________________________________________________________________
Info Session:
On Wednesday, March 15th, NEMS hosting an optional Info Session to cover both races at Killington and the Finals Party on Saturday. A replay will be available following the session for anyone unable to attend.
Zoom Meeting:
https://us02web.zoom.us/j/82534830579?pwd=VWhiUXhJRlNwQ2NHdWJXaFhzNjFXQT09
Meeting ID: 825 3483 0579
Passcode: beast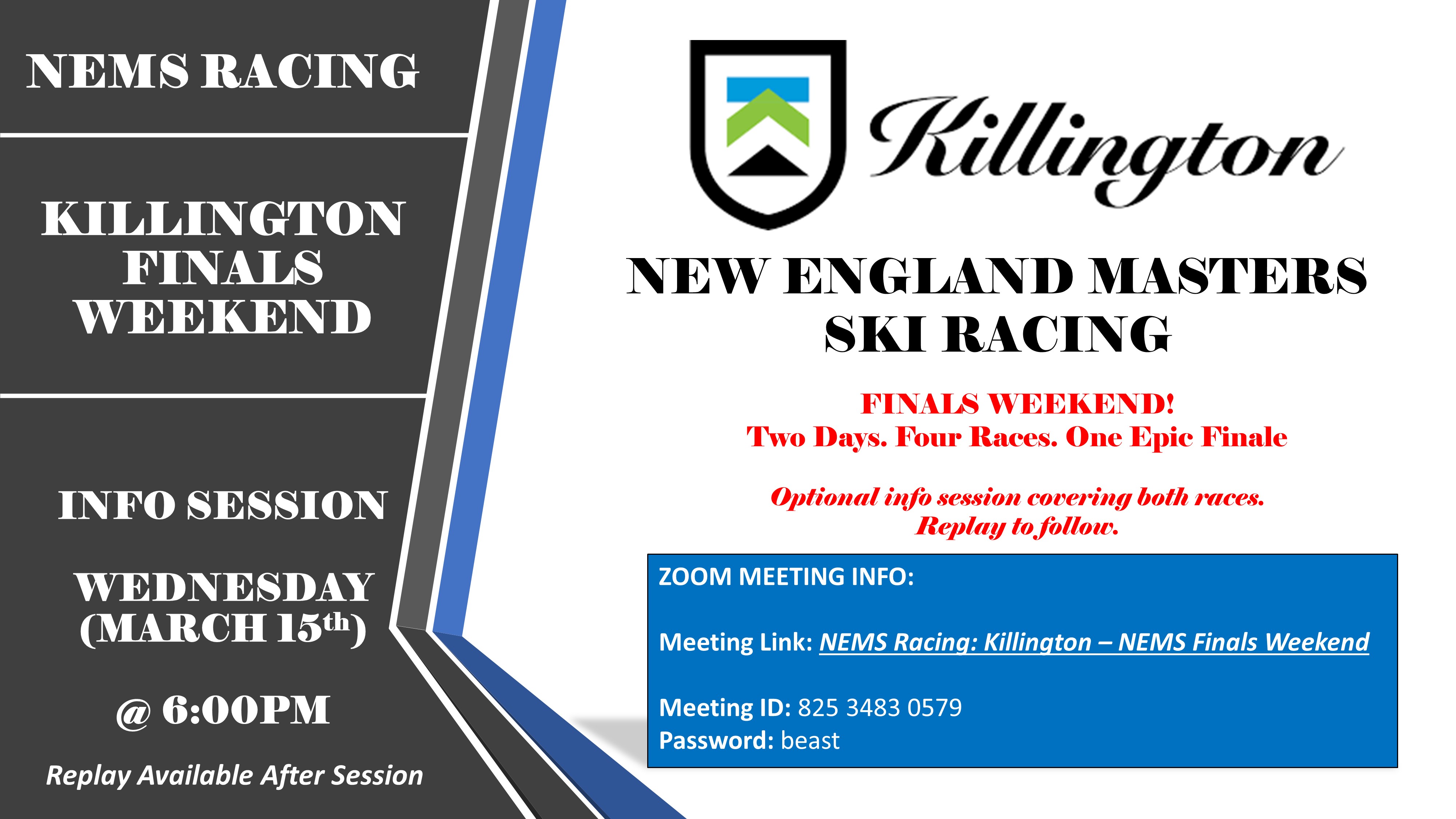 _____________________________________________________________________________________________________________________
Where to Stay:
Killington is packed with lodging options. From hotels, houses, condos, motels, and B&Bs, Killington has what you are looking for.
The help our racers with their lodging needs, NEMS has partnered with The Killington Group, where racers will receive 15% off their rental when purchased via their website. See below for details. 
Website: https://www.killingtongroup.com/
Discount Code: NEMS15 (use at checkout)
_____________________________________________________________________________________________________________________
Where to Eat:
The Killington access road has many great spots to fill your appetite. The new K1 Base Lodge also provides plenty of options while you are up on the mountain. 
Breakfast:
Dunkin & Starbucks - There are no Dunks or Starbucks at Killington. The closest Dunks & Starbucks is located in Rutland, about 20 minutes away. If you are coming from the East, Quehcee has a Dunks, although it might be closed for renovation. Lebanon is your best chance. Take the last exit before going over the Connecticut River Bridge. 
Access Road Options:
Back Country Cafe - Towards the base of Access Road. A good sit-down spot to grab a bit to eat in the morning. 
Killington Market & Deli - Great spot to pick up a breakfast sandwich, or a sandwich for lunch. The location is also a small grocery store. 
Sunup Bakery - Great spot for coffee and/or a pastry. They also have bagels and breakfast sandwiches. Does get very busy!
Dinner: 
There are a number of great spots located on the access road. 
Nightlife:
Killington has the best ski area nightlife scene on the east coast. Many of the restaurants above will be busy for apres ski and well into the night. There are two very well-known spots to check out if you are looking for something different. 
Wobbly Barn Steakhouse - Solid place to grab food, but The Wobbly Barn turns into a live music venue at night and gets wild! 
Pickle Barrel Night Club -  Looking to turn it up? The Pickle Barrel is the place. Live music with an energetic atmosphere. 
                                                  ** Expect to pay a cover charge of $20 on weekends**
_____________________________________________________________________________________________________________________
Things to Do:
_____________________________________________________________________________________________________________________
Event Sponsors: