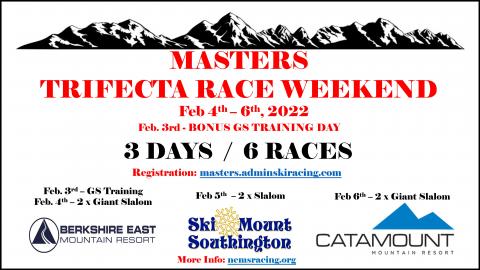 Masters Trifecta Race Weekend - Feb. 4-6th
Very rarely do the stars in the Masters ski race planning universe align to allow for an event like this to be possible. This is one of those years. After months of careful planning, coordination, favors, wishing wells visits, and just about anything else you can do to help improve your chances of making a dream come true, IT ACTUALLY HAPPENED! The Masters Trifecta Race Weekend is officially ON!
What is it?
The Masters Race Trifecta Weekend will be all about racing. There will be up to SIX (6) total races with a bonus GS training day to start things off. So, if you are looking to do a lot of races in a short amount of time, you should circle this weekend on your calendar and get ready for an amazing few days.
Where is it?
The Masters Race Trifecta Weekend will take place at Berkshire East (MA), Mt. Southington (CT), and Catamount (NY/MA). Each venue will have 2 races, with Berkshire East having an additional GS training the day before the GS races.
What is the Schedule:
Thurs., Feb. 3rd – Berkshire East - GS Training
Fri., Feb. 4th – Berkshire East – 2 x GS Races
Sat., Feb. 5th – Mount Southington – 2 x SL Races
Sun., Feb. 6th – Catamount – 2 x GS Races
Race Registration:
Online registration is required for all events, including the training. Racers can register at: masters.adminskiracing.com.
Racers are not charged for the race until after the event.
If a racer registers for an event, but does not start in the race, a Did Not Start Fee will be charged.
Registration for the Berkshire East & Mount Southington races is under the New England region.
Registration for the Catamount races is under the Mid-Atlantic region.
Other FAQs:
Please see the Race Info Sheet for each race regarding race specific questions (registration, start times, awards, etc.)

Race Info Sheets will be located on the event signup page for each race. 

Do you need to attend all the events?

We love it when racers come out for every event, but we know schedules don't always allow for it. Therefore, racers are not required to attend every event.

Who can attend these races?

These are Masters races held under the U.S. Ski and Snowboard (USSS) sanction. Therefore, racers must be at least 18 years old, and have a current USSS Masters license, to participate.

Do I need a USSS Masters license to participate?

Yes. Since these races all fall under the USSS sanction, a current USSS Masters license is required.
The Alpine Competitor & Coach licenses can have the Masters license added for free. A racer will need to contact USSS Membership Services to have it added. It can be done over the phone and only take a couple of minutes. 
Short-Term licenses are available for $35 per day. In some cases, we might be able to comp ONE (1) license. For more info, please contact the following:

Do I need to have a membership for the host region?

Memberships are encouraged but not always required. For more information on membership criteria for New England and Mid-Atlantic, please visit:

Helmet Requirement (IMPORTANT)

The GS races at Berkshire East & Catamount will require racers to have a helmet which conforms to the FIS specifications. The helmet must have the FIS logo sticker on the back.
The SL races at Mount Southington do not require a helmet which conforms to FIS specifications.