SCHEDULE UPDATE:
Due to expected heavy snowfall on Wednesday into Thursday, the Super-G training and races have been cancelled. There will be Slalom training on both days for anyone still interested in getting some gate time in. 
_____________________________________________________________________________________________________________________
The Eastern Regional Championships are back at Stratton and it's going to be quite a few exciting days in Vermont! Stratton is no stranger to big time events, and has played host to numerous Eastern Regional events over the years. So get ready for some races, parties, and excitement! 
This year the Eastern Regionals weekend will attract racers from across the region, and even Canada. We even have racers joining us from Europe! There is a lot going on so we want to ensure everyone has the information they need so they can have the time possible. 
The Schedule:
Wed., Jan. 25th

- Slalom Training 

Thurs., Jan. 26th

- Slalom Training

Fri., Jan. 27th

- Slalom Race

Sat., Jan. 28th

- Giant Slalom Race -

Janeway Cup
To Register for races: https://masters.adminskiracing.com/
Important Things to Remember:
The

Race Registration Table

will be located in the Main Base Lodge past the cafeteria. 

The

registration deadline

for any event is 12:00 PM (Noon) the day before the event. 

There is

no day of race registration

for these events. 

Be sure you have a valid credit card on your ASR profile. 

Lift Tickets

are included in the Race Fee. 

A discount is available to anyone who does not require a lift ticket. 

A

Full USSS Masters License is required

(sorry, no short-term licenses for regional events).

A

hard-sided, FIS certified, helmet is required

for the SG Training, SG Races and GS Race.

Bibs

- NEMS will provide bibs to all racers. If you already have a NEMS bib please bring it. 

Stratton Weather

- Stratton is notorious for tricky weather. Consider bringing an extra jacket/vest to leave at finish. 

For specific race start times please see the

Stratton Race Info Sheet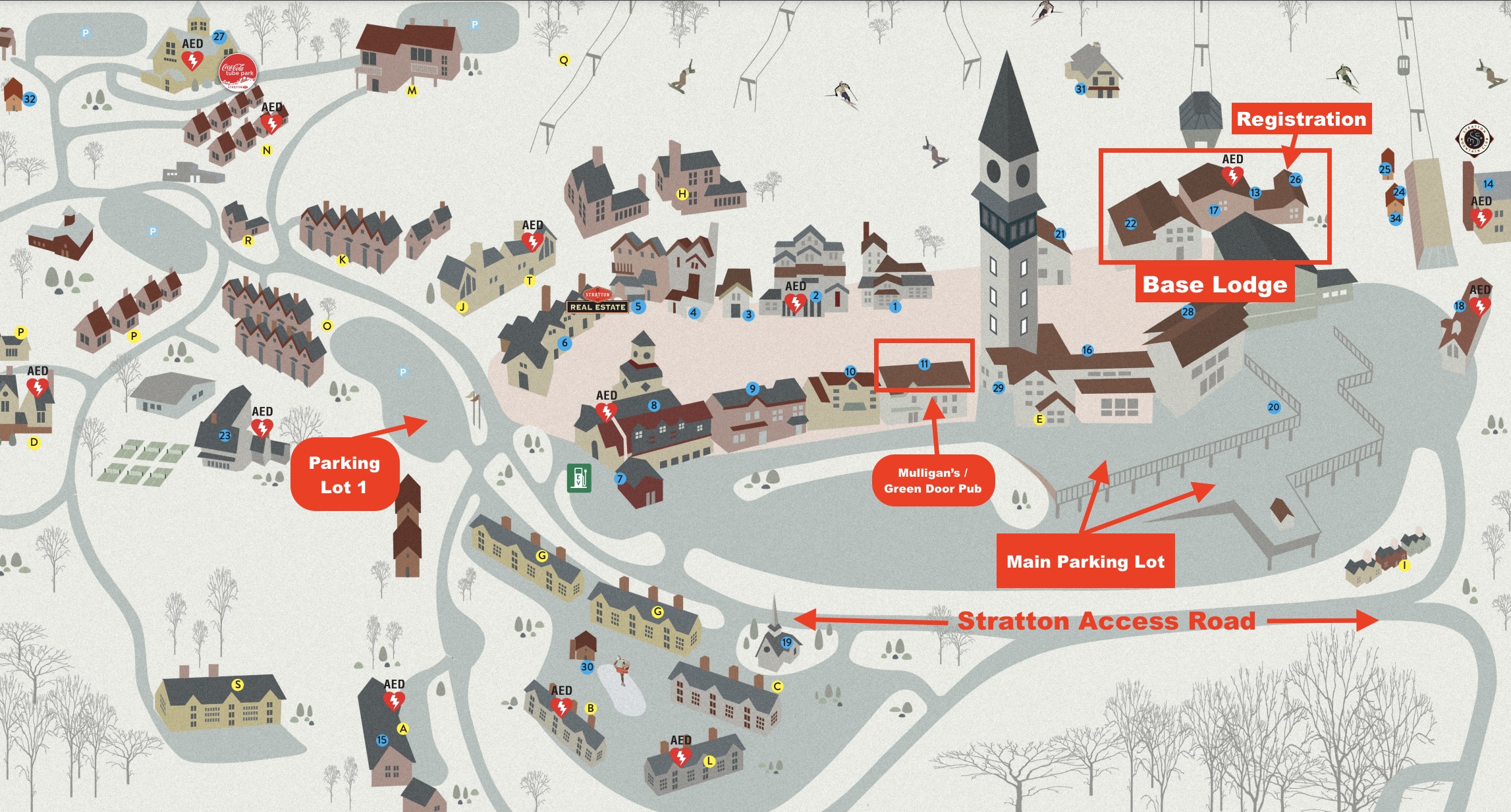 Info Session:
On Monday, Jan. 23rd, NEMS hosting an optional Info Session to cover the Stratton races.
To watch the replay click here: Stratton Info Session Replay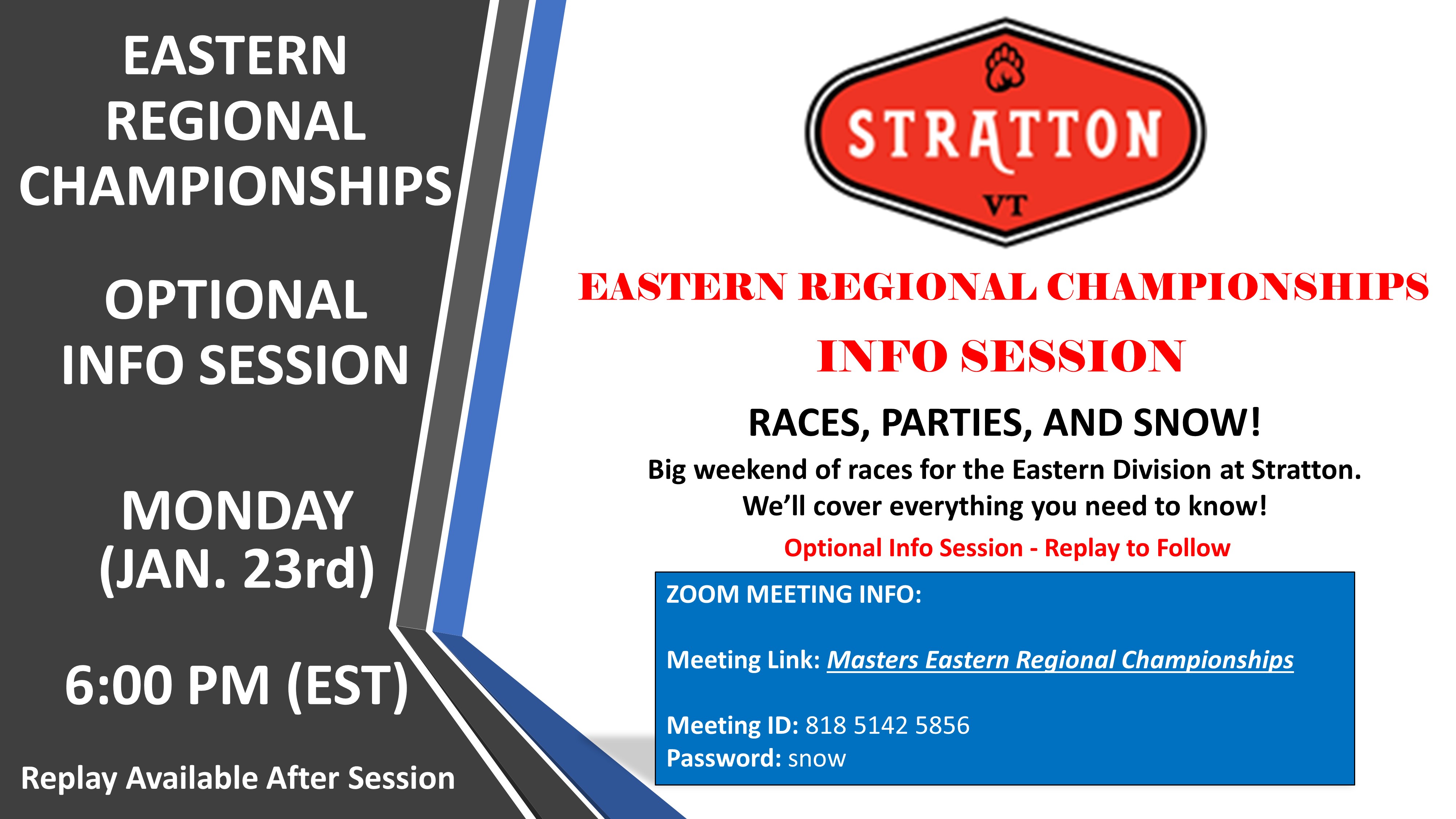 Awards Parties:
The After-Parties Are BACK!! Be sure to join your fellow racers following the race for some beverages, food, storytelling, and of course prizes and awards. Times listed are estimates and are subject to change based on the progress of the race. Any updates will be communicated to the group. 
Thurs., Jan. 26th

- 3:00 PM @ Mulligan's (Stratton Village)

Fri., Jan. 27th

- 3:00 PM @ Mulligan's (Stratton Village)

Sat., Jan. 28th

- 3:00 PM @ Stratton Golf Course Parking Lot (Off Access Road)
Important note on the Saturday awards party:
Stratton is a busy venue, and an even more expensive venue to hold a party. Outside of the Stratton Village, there are little to no options available to host events within close proximity. Saturday is also the most difficult and expensive day to hold an event during the winter season.

The plan, at the moment, will be to hold the awards in the Stratton Golf Club Parking Lot. The parking lot is just off the Stratton Access Road and it is paved. Most everyone will need to drive by it on the way home regardless. There will be beverages (adult juice boxes) and we will have food (most likely pizza from a local shop). We will be mindful of the fact that most racers have long drives ahead of them as well. We understand this might not be the most ideal location, but at the moment it is the only location. Updates will be provided as they become available.
Parking
If you are driving to Stratton there are a few things to keep in mind when figuring out where to park. 
Main Parking Lot - Open to the public Wed & Thurs. This is the closest to the village/base lodge. 

Friday/Sat - Upper Lot is closed to the public (parking pass required).

Lot 1

is the best option. It is across the street and Stratton provides free and frequent bus service. 

Timing - Stratton can/will get very busy. Get to the mountain early to get the best parking.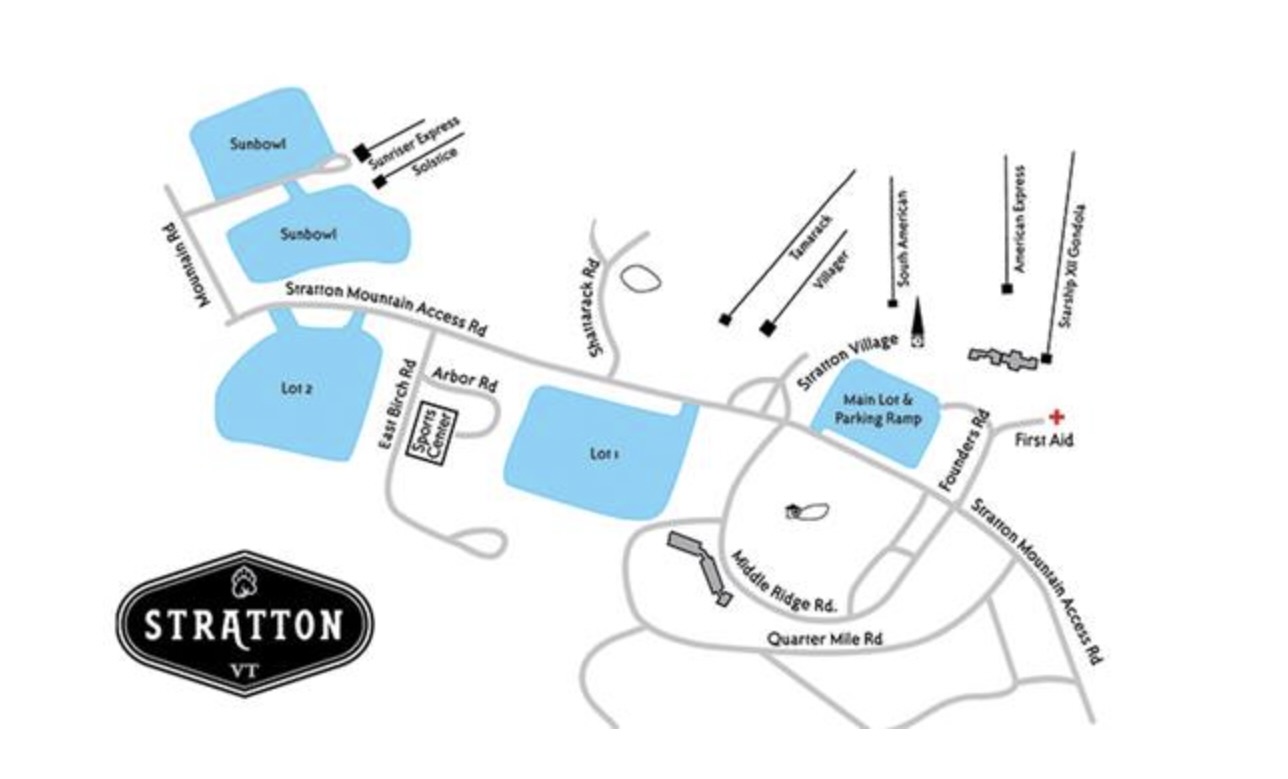 Home Base / Main Base Lodge
Daily race registration will take place in the main level of the base lodge just past the cafeteria. It's the usual spot for anyone who has raced at Stratton before. This is a big room with plenty of tables and seating. Most racers will get ready here. This area is open to the general public. Bags are not allowed to be left here. There is a free bag watch, as well as cubbies, at the other end of the lodge. 
Ski Racks: 
There are plenty of ski racks located outside of the base lodge. It is highly recommended that you lock your skis. While Stratton is not known for ski theft, it is certainly possible. 
Mid-Mountain Lodge:
Stratton has a lodge located at mid-mountain that is a perfect amenity for racers on race day. Racers can bring a second pair of skis up from the base lodge and leave them at mid-mountain (racks outside). Many racers also bring a day bag to leave at the mid-mountain lodge. There are plenty of hooks to hang your bag. There is a full cafeteria, with a decent selection of food options, inside of the mid-mountain lodge. There is also a full service bar, which is probably best not utilized before your race. The mid-mountain lodge offers a great option for racers to get inside between runs and to warm up before race time. It also has a perfect view of the race hill, so you can watch the race amongst fellow racers.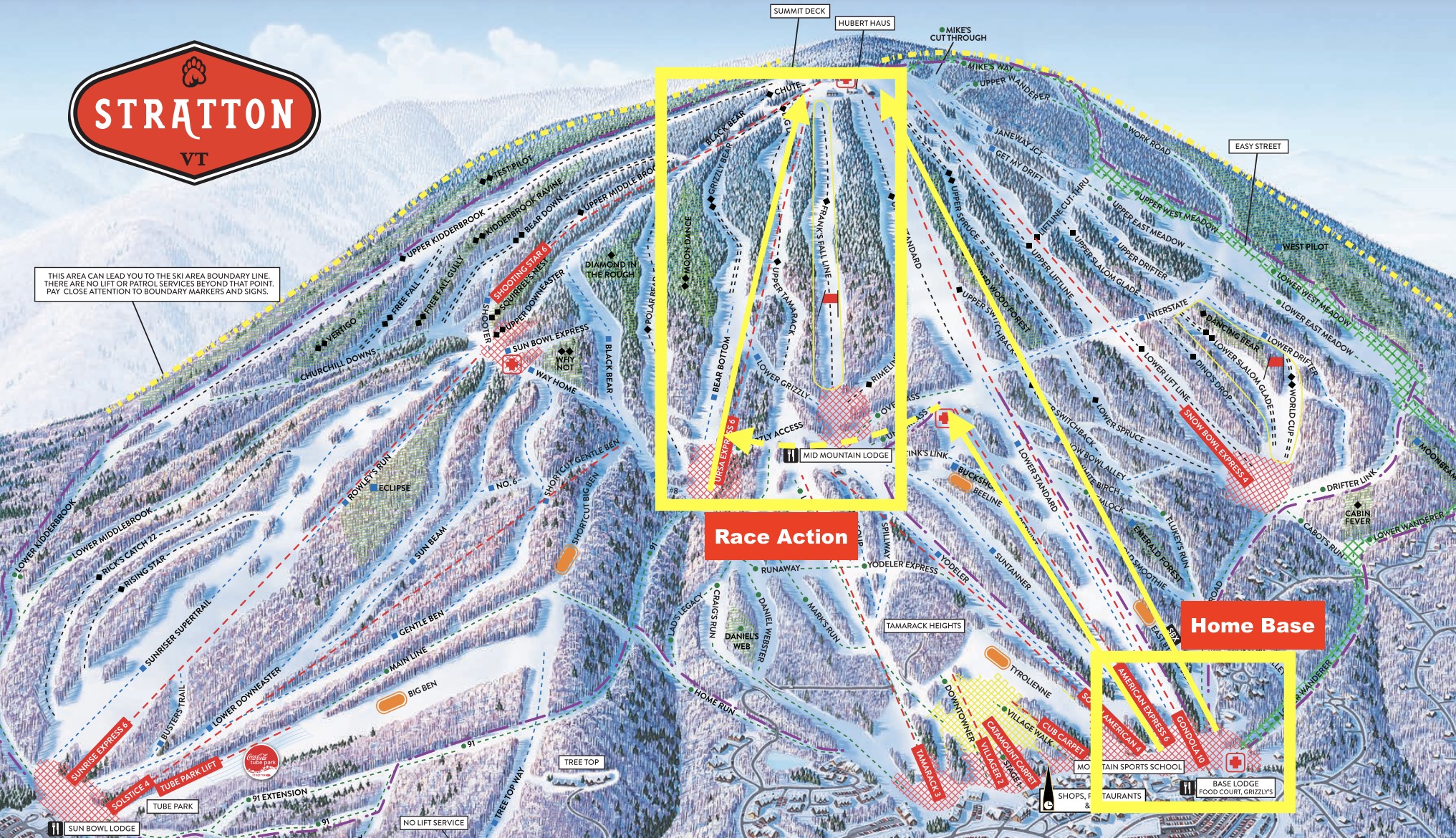 _____________________________________________________________________________________________________________________
Where to Stay:
Stratton, and the surrounding area, have many lodging options. Here are a few to help get you going. 
Stratton Lodging:
Manchester, VT: (25 min drive)
Located just down Rt. 7 to the West of Stratton, Manchester is a really great town to spend your time off the slopes. From an abundance of lodging options, to great restaurants and shops, Manchester is absolutely worth a look. 
Airbnb / VBRO Options 
There are a number of short-term rental properties in the general area which could also be suitable options for your trip. Other areas to consider would be Winhall, Bondville, Jamaica, and Peru (Bromley). All are close to Stratton and have a number of rental options available. 
_____________________________________________________________________________________________________________________
Where to Eat:
Stratton has something for everyone, so if you are staying at the mountain, you should not have any issues finding a place to grab a bite. It can get busy though, so reservations and/or going early might be a good option. 
Breakfast:
Dunkin & Starbucks
The good news for those staying in Manchester is that you have both options to choose from. For everyone else, you are unfortunately SOL unless you are doing a day trip. In which case it is recommended that you stop by one on your way. 
Mad River Roasters (Stratton Village)
If you're looking for a morning boost, check this spot out in the village. You won't be disappointed. 
The Market (Base Lodge)
They make a mean breakfast sandwich. Also have omelets, french toast, and oatmeal, among other things. Save some cash and bring that Ikon Pass.
The Works (Manchester)
Located in downtown Manchester, and nestled along the river, The Works is a great place to stop for a bagel or breakfast sandwich. If you are in a rush and  headed to the mountain, save time and place your order online.
Up for Breakfast (Manchester)
Always! A classic sit down breakfast spot with a crazy delicious menu. 
Dinner - Stratton Area
Stratton Village Dining Options
Red Fox (Winhall) - Currently Closed with new ownership coming in.
New to Town - El Banditos Grill (Bondville - Across from Access Road Entrance)
Unique/Cool - HoneyPie (Jamaica)
A gas station was turned into a burger joint, and you what, it's kinda awesome! 
Covering the Bases - Family Kitchen Pizzeria - (South Londonderry)
Pizza, Italian, and…Asian? Yep, this place pretty much has you covered and it's pretty good. 
Dinner - Manchester
Manchester has a great dining scene with a number of great options. Just remember, you have a ski race the next morning! 
_____________________________________________________________________________________________________________________
Things to Do:
Bringing family or friends? Maybe they aren't as into skiing as you and are wondering what to do while you're out on the slopes. Stratton has a number of fun options for them to consider. From snow tubing to snow shoeing, and fat biking, check out all of the activities Stratton has to offer. 
https://www.stratton.com/things-to-do
_____________________________________________________________________________________________________________________
Event Sponsors: