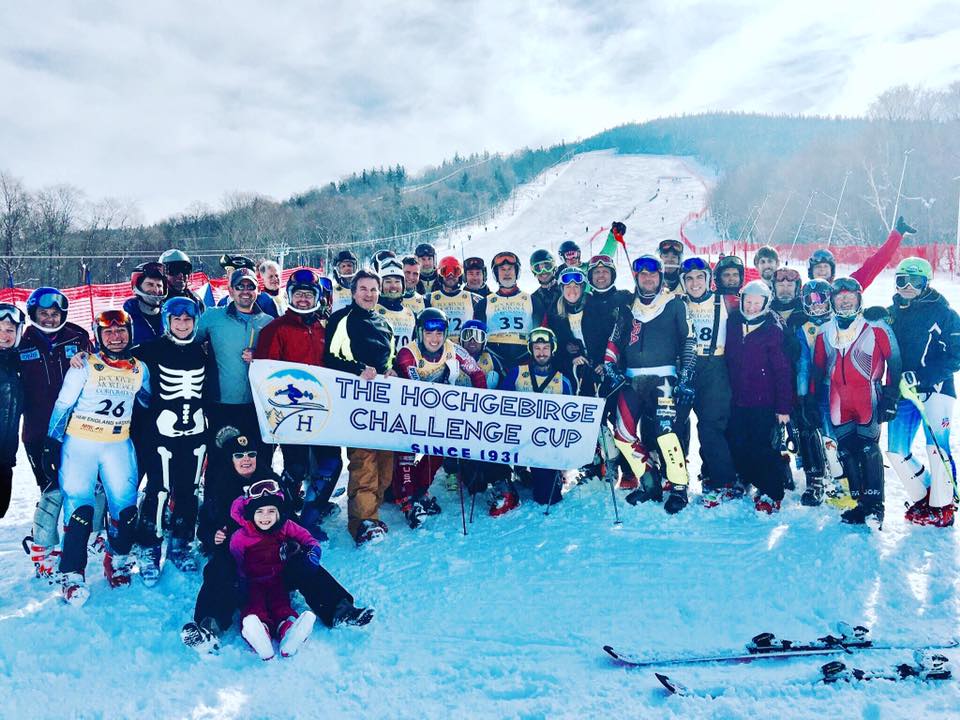 Update:
Due to current snow conditions, the race is being moved from Mittersill to Cannon. The race discipline is being changed from a Giant Slalom to Slalom and will take place on Gary's trail. Erine's Haus will be home base.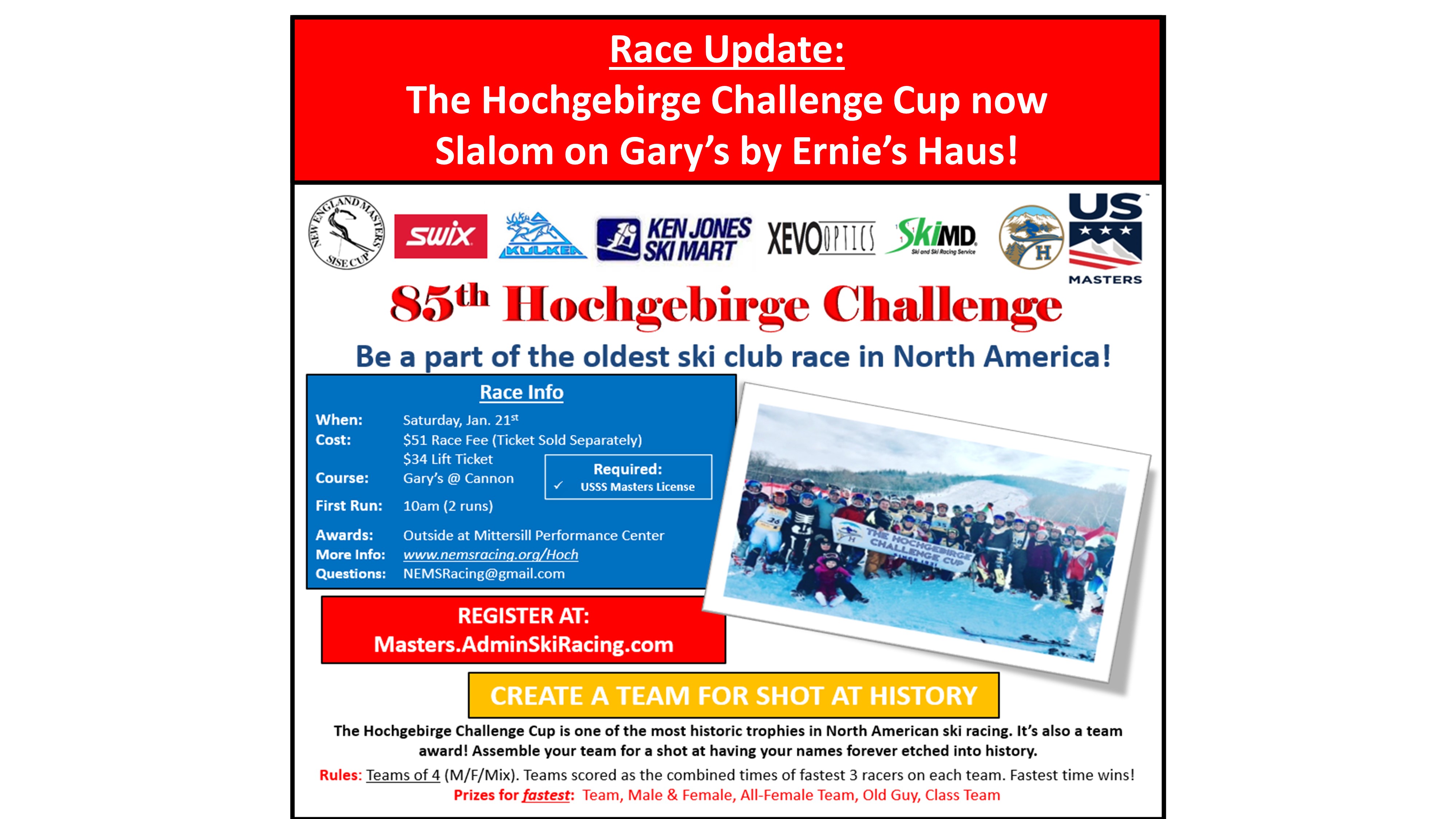 _____________________________________________________________________________________________________________________
The oldest ski club race in North America is back for its 85th year! The Hoch Challenge Cup Race has been a NEMS favorite for decades. It is always an exciting race, and is considered a "must attend", by many of our regular racers. 
The Hoch is currently the only NEMS race with a team aspect. Racers can create a team of FOUR (4) to compete for one of the legendary Ski Club Hochgebirge trophies. Team entries cost $20, are done at Mittersill, and facilitated by a Ski Club Hochgebirge representative. Following the race, awards and the team winners will take place outside on the Performance Center patio. Additional details, including a link to the Team Form, are below. 
IMPORTANT REMINDERS:
USSS License

- A USSS Masters License is required for this event. A short-term license can be used for racers who do not have a full USSS Masters License. NEMS can cover the short-term license. Please contact the NEMS RA at:

[email protected]

for me details.

Helmets

- A FIS helmet

is

required

for this race. This is a new rule (2022) for all USSS sanctioned GS, SG, and DH races.

Tickets

– The Race Fee

does not

include a lift ticket for this race. A discount Racer Ticket of $35 (+5 RFID card fee if needed) must be purchased separately via link (

See Race Info Sheet

).
____________________________________________________________________________________________________________________
Info Session Details
There will be an optional Info Session to cover both the Waterville and Mittersill race events. A replay will be available following the session for anyone unable to attend. Below are the Info Session details:  
Date: Tuesday, Jan. 17th
Time: 6:00 PM EST
Join Zoom Meeting - https://us02web.zoom.us/j/4856760312?pwd=Y0RIZjY4dW4rN0s5UitCSjYxYS9UQT09
Meeting ID: 485 676 0312
Passcode: nems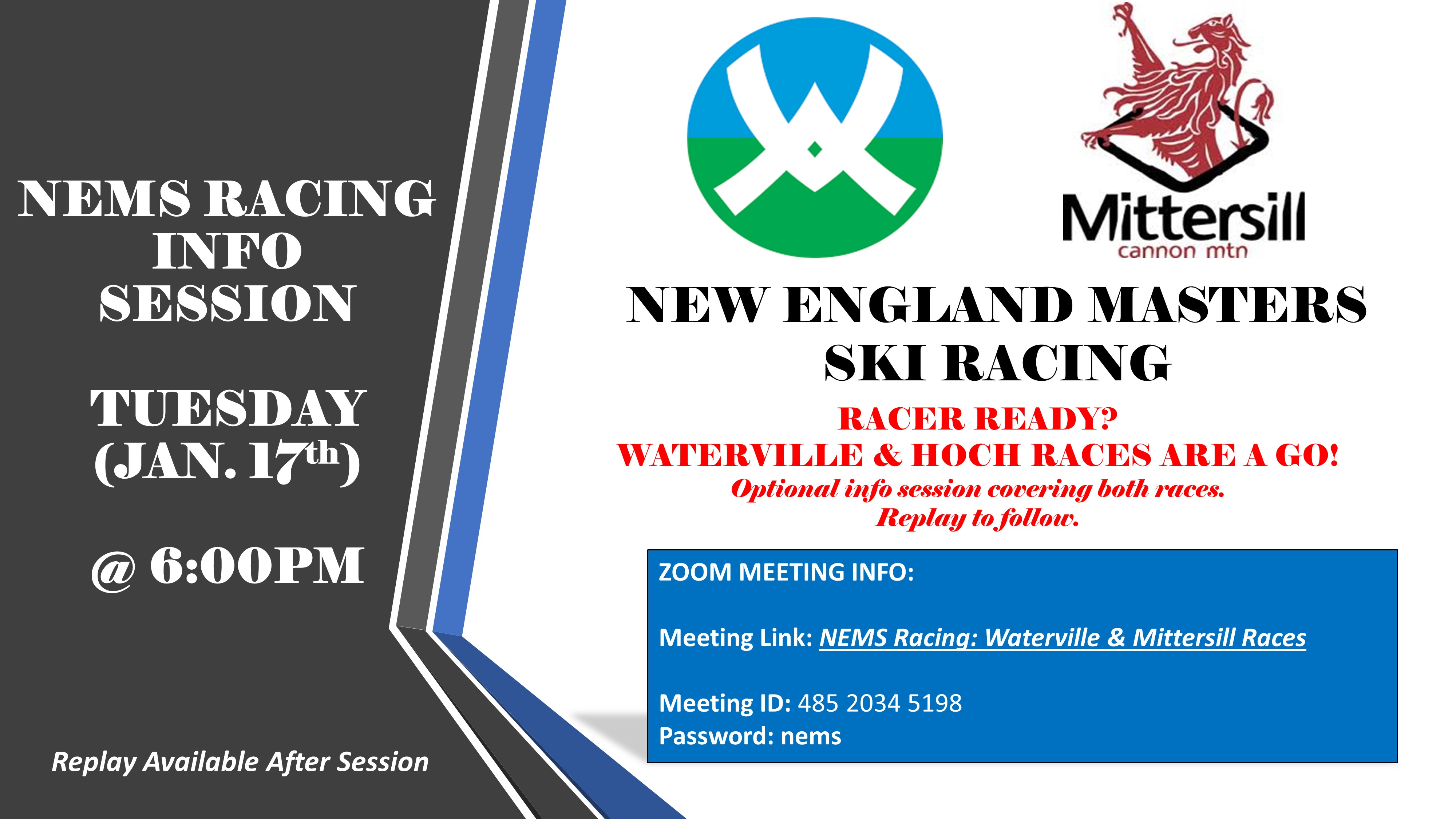 ____________________________________________________________________________________________________________________
Race Info:
Please be sure to visit the Mittersill Race Registration Page and the Mittersill Race Info Sheet for all of the official race details.
The Race Basics:
Date:

Saturday, Jan. 21st

Discipline:

 Slalom (1 race - 2 runs)

Race Fee:

$51 (Lift Ticket Sold Separately - $35 + $5 RFID Card fee if needed)

Age Requirement:

Yes - Must be at least 18 years old

USSS License Required:

Yes

NEMS Membership Required:

See

NEMS Membership Policy
The Hochgebirge Challenge Cup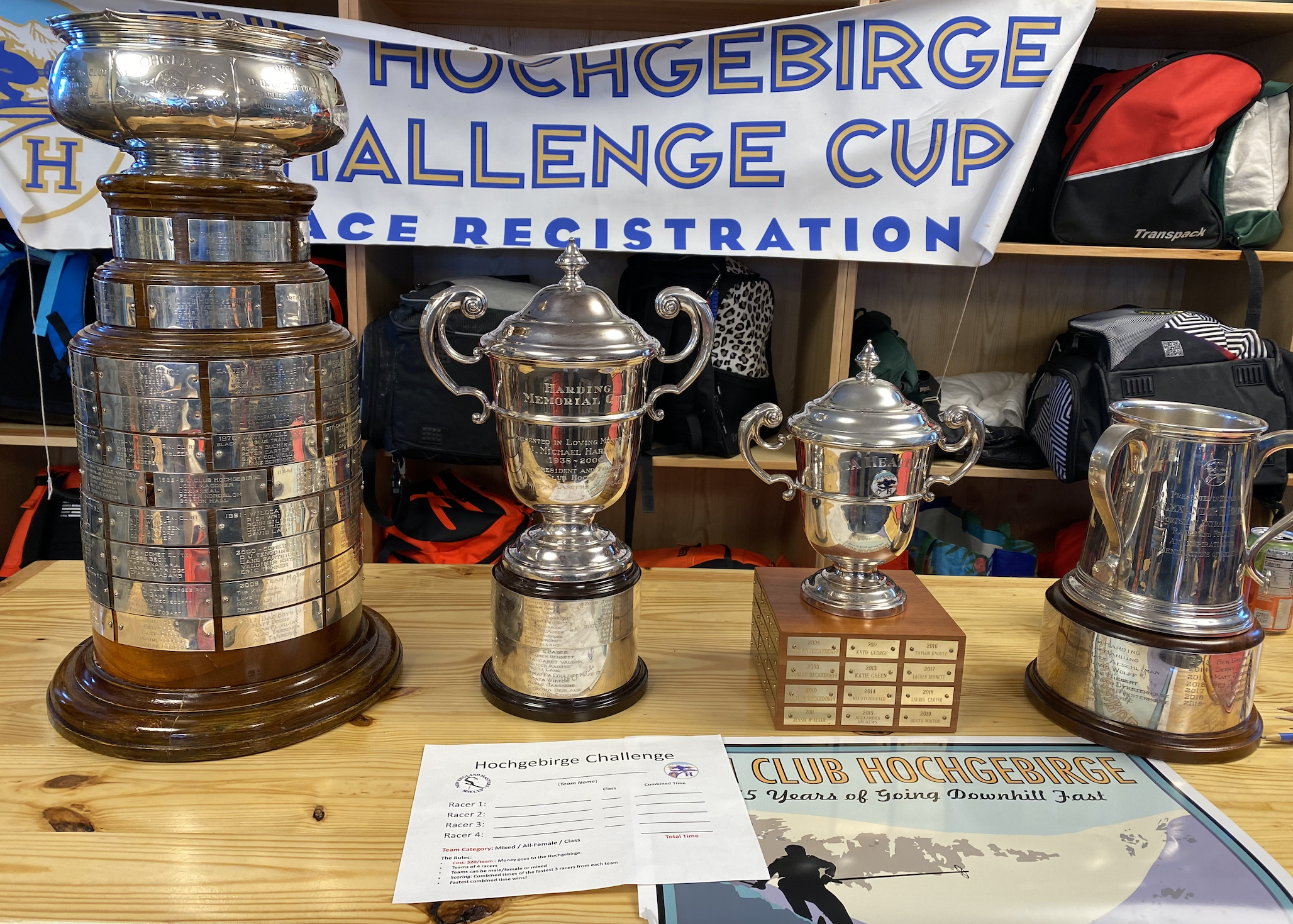 The only team event on the NEMS schedule also happens to be one of the most historic. This year will be the 85th Hochgebirge Challenge Cup. The event has survived bad snow years, wars, recessions, and even a global pandemic! While the race has seen a number of changes over the years, one thing which hasn't changed is the fun the event brings on race day. 
Up for grabs are eternal glory and trophies for the following categories:
Fastest Team

Fastest Male & Female

Fastest All-Female Team

Fastest Old Guy

Fastest Class Team
How to Register:
Create a team and fill out the

Hochgebirge Challenge Team Form

Registrations take place on race day inside the Performance Center

A representative from the Ski Club Hochgebirge will collect the

Team Form

and the $20 cash payment

 

Important

- NEMS does not facilitate collection of forms or payment for the Hochgebirge Challenge Teams. This is only done through a representative from Ski Club Hochgebirge. 
Things to Consider
The race is being moved to Cannon. Registration and home base will now be Ernie's Haus.
Parking - Be sure to park at the first lot off Rt. 93 exit. There is limited parking by Ernie's Haus, so you can try depending on your arrival time
You can easily walk from your car to the Erine's Haus. 
Food - There is a small kitchen in Erine's Haus. There are a few options available, but it's very limited. Recommend bringing your own lunch and beverages, if possible. 
Bags - You can leave your bags in the lodge. Be sure your bag is properly stored in one of the cubbies on the wall. 
Awards - Due to the change in venue we are currently working on finalizing this.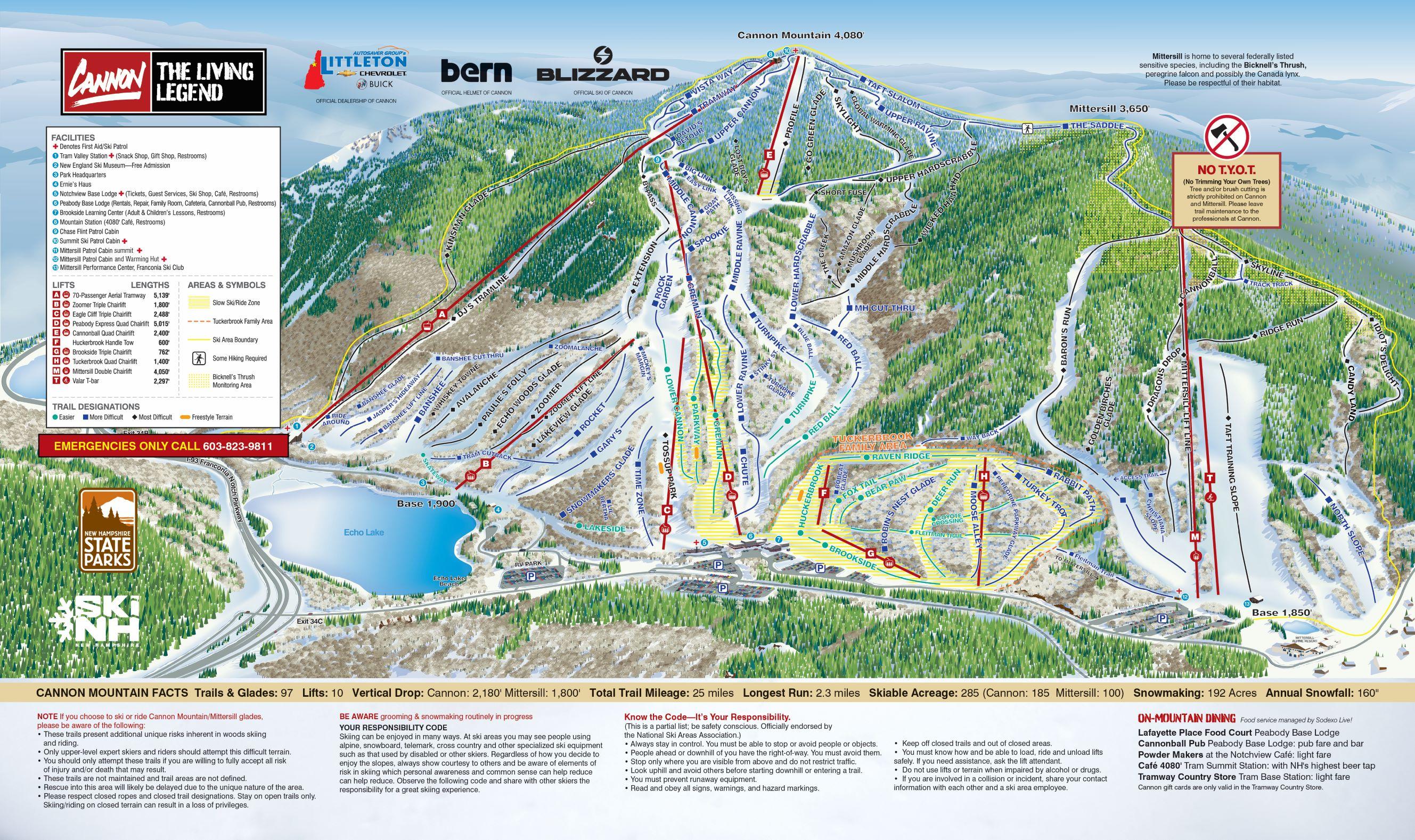 _____________________________________________________________________________________________________________________
Where to Stay:
If you are looking to stay up in the Franconia area for the weekend there are a few options, but lodging is somewhat limited in the area. Other options to consider would be Lincoln (20 min), Plymouth (35 min), or Waterville Valley (45 min). You can also check out Littleton (10 min) and Bethlehem (15 min) to the north. 
Franconia: (<5 min drive)
Littleton: (10 min drive)
Bethlehem: (15 min drive)
Lincoln: (20 min drive)
Plymouth: (30 min drive)
Airbnb / VBRO Options 
There are a number of short-term rental properties in the general area which could also be suitable options for your trip.
_____________________________________________________________________________________________________________________
Where to Eat:
There are plenty of great food options to choose from while visiting the Lebanon area. 
Breakfast:
Dunkin & Starbucks - If you need your fix in the morning there are few options along the way. 
From the South:
Dunks: 

Exit 28 (Rt. 49 - Campton/Waterville) 

Exit 32 (Rt. 112 - Lincoln/Loon)

Starbucks 

Exit 20 (Rt. 126 - Tilton)
From the North:
Dunks & Starbucks: 

Exit 42 (Rt. 302 - Littleton) 

 
Polly's Pancake Parlor (Franconia)
If you are looking for a good hearty breakfast before hitting the slopes, consider stopping at Polly's on the way. 
Dinner - Franconia
Hidden Gem - Chef Joe's Catering - The Bistro (651 Main St., Franconia, NH 03580)
https://chefjoescatering.com/the-bistro/
If you are looking for a new reason to come to Franconia, this is the spot. Excellent food, service, and location. Chef Joe's cooking is well-known for a reason. Definitely check this place out! Reservations highly recommended!
The Quintessential - The Franconia Inn (1172 Easton Rd., Franconia, NH 03580)
The moment you walk into the Franconia Inn you know you are in for a treat. You feel the warmth coming off the roaring fireplace. The deep leather couches are an inviting sight for sore legs. The laughter of friends by the bar carries across the lobby. The smell of the delicious meal you are about to encounter hits your nose. If you are looking for a place that checks all the boxes, this is your spot. 
More Refined - Sugar Hill Inn (116 Route 117, Sugar Hill, NH 03586)
If you are looking for upscale, Sugar Hill Inn is the spot. Enjoy this cozy setting with a glass of wine and something off their delicious menu. Reservations encouraged.
_____________________________________________________________________________________________________________________
Things to Do:
_____________________________________________________________________________________________________________________
Event Sponsors: